Custom LCD Modules

Please complete the form below to request a quote for a custom LCD module.
A Liquid Crystal Module (LCM) usually consists of a Liquid Crystal Display (LCD), printed circuit board (PCB), backlight, and interface circuitry. We can also apply an anti-reflective layer to the front glass to minimize reflections.
A drawing is usually supplied by the customer with a request for quote, however, this is not always necessary. Please refer to the drawing below, which shows relevant information needed.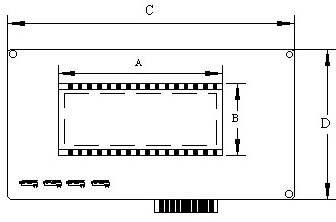 The size of the PCB width and height (C and D).

The size of the LCD glass width and height (A and B).

The layout of the LCD digits and annunciators or pixel array count if a graphics display (i.e. 640 x 480).

The operating temperature range.

The type of interface (i.e. parallel, serial, USB, etc.).
Additional options include the following:
Type of Backlight: LED, CCFL, or Electroluminescent
Front Glass Coating: Anti-reflective or anti-glare
Standard or custom connector with flat cable
Temperature compensation circuitry
LCD Custom Module - Request for Quotation
Please use the information above to fill-in the blanks below. All of the fields are optional, but please provide us enough information to contact you.